Restorative Economies Fund
We believe Black and Indigenous people and other communities of color require access to the resources and decision-making process that allow them to exercise agency over their well-being and livelihood.
The Restorative Economies Fund (REF) seeks to close the racial wealth gap and transform our financial system by strategically reinvesting resources into community-owned and governed projects led by Black and Indigenous people, and all people of color.
The Fund's mission is to support projects that create shared prosperity, self-determination, and build collective political, economic, and cultural power.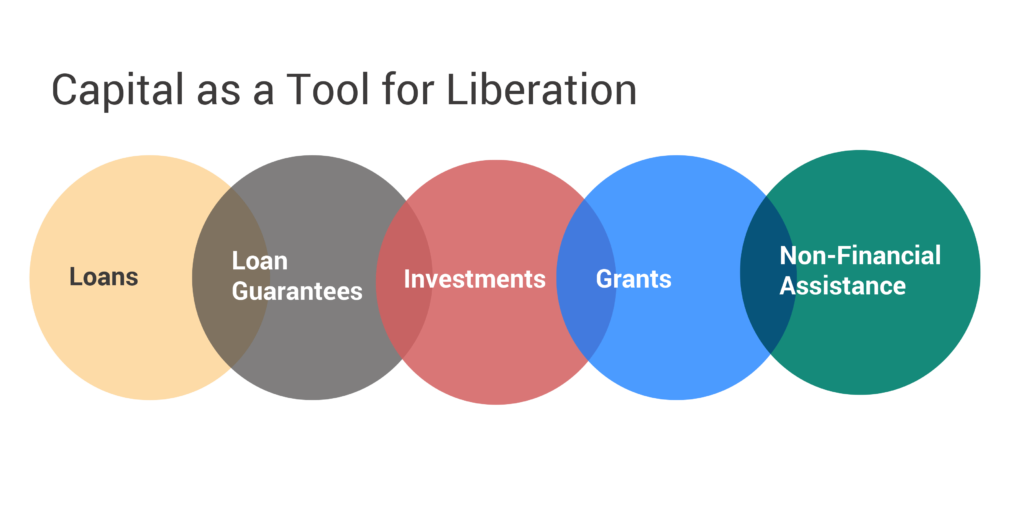 REF funds technical assistance work, which can include community organizing, in recognition of the fact that the success of collective stewardship and governance is inextricably linked to people's well-being and ability to build power.
REF is an integrated capital fund, which means the Fund combines grants with non-extractive investments (loans, loan guarantees, or lines of credit, etc.) and non-financial support including technical assistance or strategic advice.
*Graphic inspired by RSF Social Finance's definition of integrated capital.
REF's Principles to Support Community Wealth Building:
Democratic Governance & Leadership: transitioning power from the hands of a few into directly impacted and frontline communities
Political, Economic, and Cultural Power Building: agency and self-determination for impacted communities
Capacity Building & Human Development: building the capacity of partners to create alignment across movements and democratically deploy capital
Systemic Change: investing in strategies like policy creation, electoral campaigns, legal challenges, and efforts that defend the rights of all people
REF's Funding Strategies:
Land & Housing Stabilization: access to affordable land and housing stabilizes communities living at the margins of displacement
Community-Governed Capital Vehicles: reinvesting capital into local economies in alignment with local social movements
Equitable Economic Development Projects: creating physical spaces providing excessive and inclusive services, amenities, and programs
Built Environment Infrastructure Projects: facilitating connectivity of communities through projects like internet mesh networks and renewable energy microgrid systems
During REF's webinar in 2021, Avery Ebron, Head of Community Projects at The Guild, described their vision for community-wealth building in Atlanta.
To hear more, listen to the full webinar.